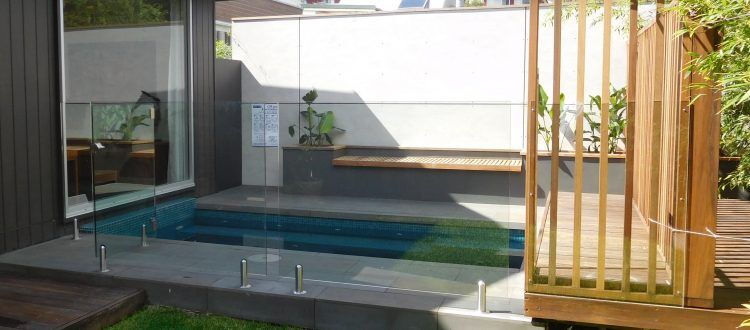 Looking for innovative and creative solutions that will add value to your home?
At POOL CERTIFY our fully accredited and experienced certifiers take the time to present you with options that you can embrace rather than impose a fix that you are not happy with. Here we share some creative solutions and concepts that allowed pool owners to retain their right to Savings Clauses whilst still achieving a compliant pool enclosure.
Here we have a small front yard pool constructed far too close to the residence. The main window and back door open into the enclosure and this property developer was starting to regret the decision he had made to try and improve this small home's appeal without seeking professional advice. He was short on time as he needed to rent out the property so a concept was created. He wanted to retain as much of the newly installed shrubbery as he could to maintain some privacy from the adjacent street for the occupants of the home, and he also needed to rectify the boundary barriers which were in poor condition and far too low for a pool barrier. He did not want to permanently secure his back door (which would be the general advice given for a door that provided full access into a pool enclosure from the residence).
Our certifiers are not comfortable giving general advice though and prefer to provide a personalised action plan that resolves hard-to-fix issues in the most sensible, attractive and cost effective way. After discussing options with the pool owner during the inspection process, it was obvious that the the front open-able window would need to be replaced with a fixed pane. The owner did not want to obscure the view from the living room with a grille or mesh. A new barrier section eliminated the back door from providing access yet allowed the occupant rear egress from the home, and a new 1800mm high timber pool barrier section was appealing to the owner as he was able to install it himself and this allowed much of the screening vegetation to remain. By using a smooth board to cover the old Boundary Fence, more time was saved and a pleasing and compliant enclosure was created.
Do you have a tricky situation looming in your pool enclosure? Let's discuss options!