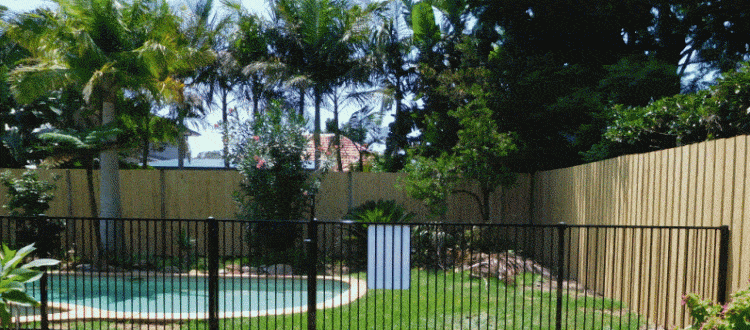 What is NCZ5 and what objects can be located within this zone
Your Swimming Pool Inspector will assess your Pool Enclosure using one of three Standards. In the example above, the vertical palings provide a smooth surface within NCZ 5 so this pool enclosure complied.
If your pool enclosure has been assessed under AS1926.1-2012, which is the current Standard, a 900mm Non Climbable Zone NCZ5 exists at the top of your Boundary Fence and is measured out and in a downward arc.
If there is any object located within this zone, whether it be a part of the fence, or near to the fence, that object needs to be removed or resolved.
Many pool owners do not understand why this is the case and want to see the legislation. Well these are the Clauses – 2.2.1 and 2.2.4.
Clause 2.2.1 states that it also applies to NCZ 1, 2 & 3 (these are located on or near a pool barrier, rather than a Boundary fence)
In any case, the Clause states that "Within an NCZ, there shall be no handholds or footholds, objects or plants that can facilitate climbing."
There is no leeway here – nothing can be in the zone that can be used to climb down into the pool enclosure from the neighbouring property.
Below are some images of the most common intrusions. Vegetation and trees, horizontal rails, decorative screens and lattice, objects such as washing lines, light fittings, ornaments, trellissing and vines, structures such as the pool filter enclosure, garden shed or shade structure, posts to shade sails and intersecting barriers that have a width that exceeds 50mm.
If your assessor asks you to remove or resolve these intrusions then this is the reason. The Standard requires a smooth fence material in this zone.
Vertical palings can be used to cover the horizontal rails, screens can be removed, trees will need to be trimmed back / removed (over 4 metres in height may require Council permission) and low structures need to be increased in height or removed.